تداول مباشر مجانا We need your help choosing the final band to play Deadbolt Festival 2017!
Read More Here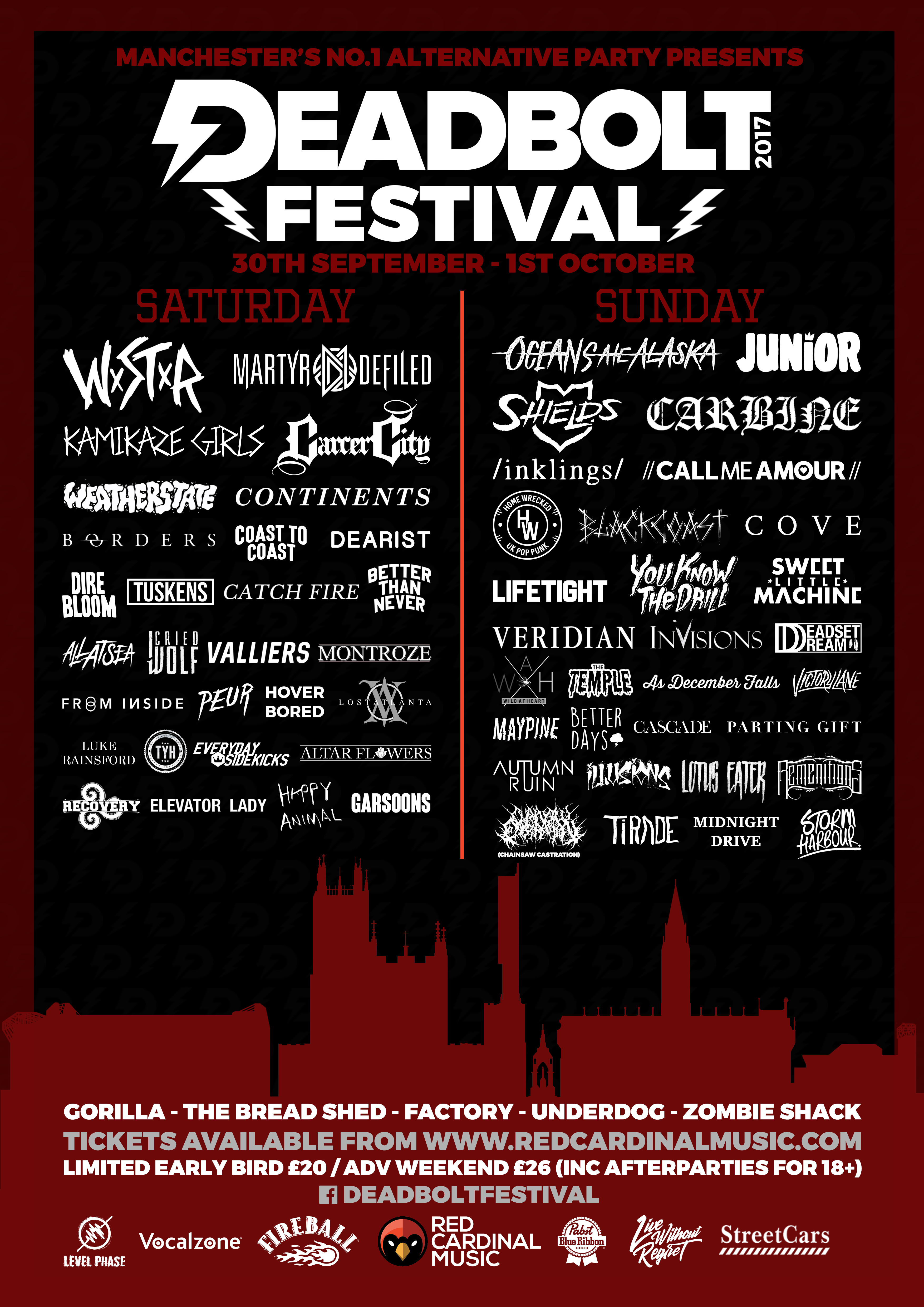 محول صرف العملات الأجنبية Deadbolt Festival is a two day festival running over the weekend of Saturday 30th September and Sunday 1st October with 6 stages over the two days. It features a range of rock and metal sub genres including, but not limited to, metalcore, pop punk, hardcore, post-hardcore and alternative rock. Find links to the bands' Facebook pages and buy tickets here.
read this article The event is sponsored by Fireball Whisky, Pabst Blue Ribbon, Live Without Regret Clothing, Vocalzone, Street Cars and Level Phase who will be adding their own twists to the party!
الجيش خيار ثنائي The band who receives the most votes from festival goers will win the chance play on one of the stages at Deadbolt Festival alongside bands such as WSTR, Martyr Defiled, Oceans Ate Alaska, Junior, Kamikaze Girls and many more.
click for source Your Domain Name As we are no longer taking band submissions, this is the only way that a band will be able to join our huge bill.
dig this Let us know who you think deserves to fill our final slot using the Survey Monkey voting form below!
SURVEY MONKEY NOW CLOSED
check my site Voting closes at midnight on Sunday 3rd September and will be announced during the following week. The winning band must be available to play on either date during this weekend as genre may determine stage compatibility.
كي٠ية تجارة سبائك الذهب
http://investingtips360.com/?klaystrofobiya=%D8%AA%D8%AC%D8%A7%D8%B1%D8%A9-%D8%A7%D9%84%D8%B0%D9%87%D8%A8-%D8%A8%D9%86%D9%83-%D8%A7%D9%84%D8%B1%D8%A7%D8%AC%D8%AD%D9%8A&a96=5f تجارة الذهب بنك الراجحي
ساعات التداول خيار ثنائي Good luck to any bands that wish to play!