http://noboundaryfight.com/events/melrose-memorial-hall-x/ On May 3rd, Deadbolt DJs will party alongside the one and only DJ Lethal, known for his stints in House Of Pain and Limp Bizkit as he takes to the stage at Factory for his Manchester date.
older bbw dating sites DJ Lethal as he's known in the industry has backed such phenomenons as Limp Bizkit and House of Pain. Like so many music men, his first influences in sound came from his guitar-playing father, Grisha Dimant.  Upon his family's arrival to America, Leor was heavily influenced by the new, gritty hip-hop genre that was transcending the urban community and reaching suburban youth across America. Watching closely, he decided very early that he would not only be a part of the great bands he encountered as the DJ, he would be an integral piece to the puzzle as a key instrument himself.  It was then when he joined House Of Pain, mostly known for their huge worldwide hit, Jump Around – which is still played in clubs every week of the year. 
dig this On House of Pain's final tour, Limp Bizkit, an up-and-coming band from Jacksonville, Florida was hired as a supporting act. DJ Lethal and the band became friends, and later, Limp Bizkit hired him to do some work on their recordings, eventually asking him if he wanted to join them. DJ Lethal accepted the offer, and the band became one of the most popular nu metal groups during the late 90s and early 2000s, selling over 40 million records worldwide.
DJ Lethal wanted his contributions to the band recordings to be more original than typical DJs in bands at the time. "There are a couple of other rock bands that have DJs and they're just like, [mimics a chirp scratch] 'Hey, what's going on? Let me spin around a couple of times and show off that I can spin two records.' So I definitely knew I didn't want to be just another DJ in a rock band. I wanted to be another instrument—a part of the band, like another guitar player."
The event will be hosted by Glasswerk, a promotion company bringing the very best upcoming and established acts to venues allover the UK for over a decade.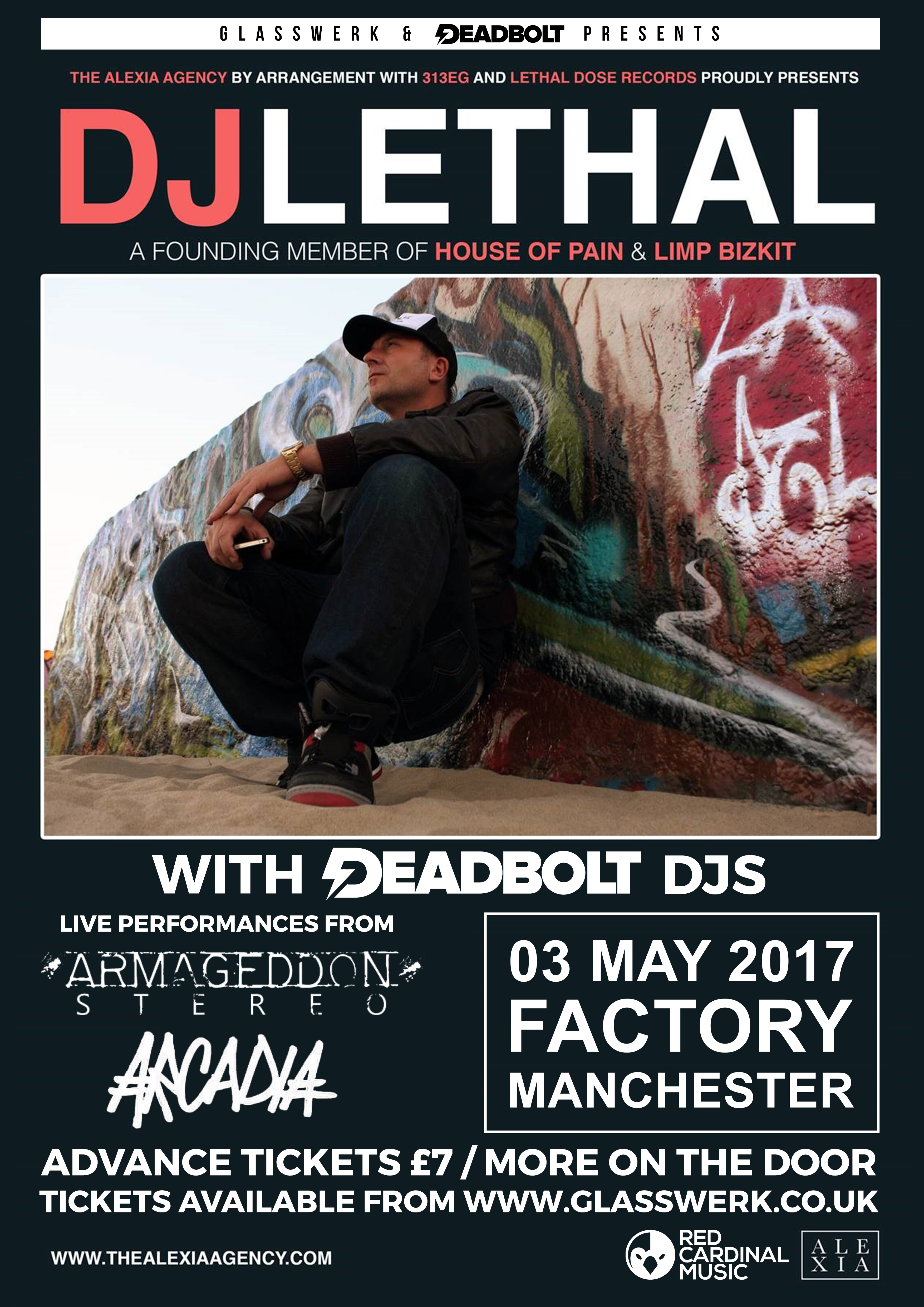 Support comes from hotly-tipped Manchester Rap Metal acts Armageddon Stereo and Arcadia.
You can pick up your tickets HERE.