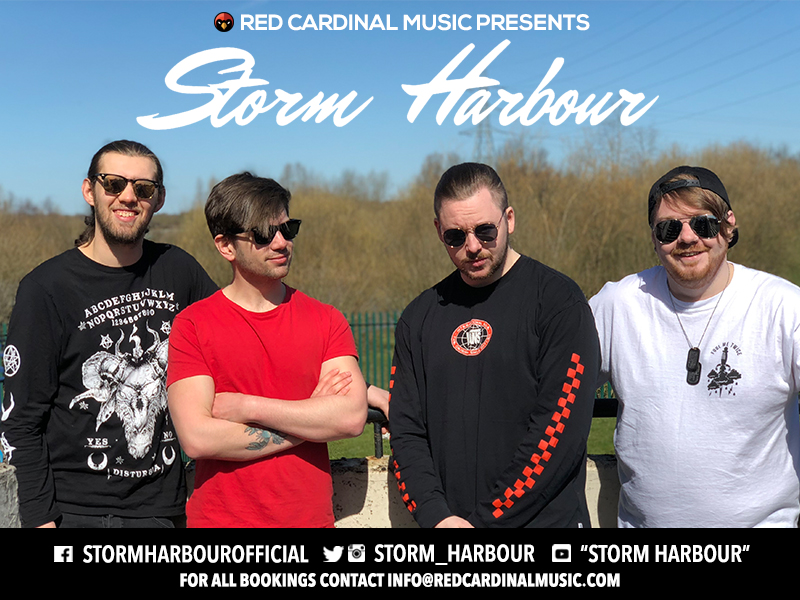 منتدى إشارة خيار ثنائي Manchester-based Pop Punk act Storm Harbour have joined the Red Cardinal Music family.
http://1conn.com/?binarforexar=عرض-مباشر-لجميع-تداول-الاسهم-السعودية-اليوم Taking influences from acts such as Fall Out Boy, The Wonder Years, Muse and The Story So Far, the band combine old school pop punk elements with a modern electric twist.
http://investingtips360.com/?klaystrofobiya=www-iforex-ae&7ad=62 The band released their debut self-titled EP in 2016 to a fantastic reception.
try this out "This self-titled release is definitely something we'll be jamming to for a while. So if 90s inspired alt rock infused pop punk is your thing, check out Storm Harbour." – Hit The Floor

خيار ثنائي الروبوت optionweb "As a whole, the EP is beautifully written. Ally's impressive vocals keep strong throughout the record. The stabbing guitar riffs throughout the EP gives it body along with the drums also. You should definitely give this a spin if you're a fan of Fall Out Boy, Neck Deep, The Wonder Years and All Time Low. I can guarantee that you won't be disappointed." – Alt Corner
http://asect.org.uk/?ilyminaciya=%D8%A7%D8%AE%D8%A8%D8%A7%D8%B1-%D8%B3%D9%88%D9%82-%D8%A7%D9%84%D9%81%D9%88%D8%B1%D9%83%D8%B3&84d=bf Earlier this year the band returned with their second EP "First Place For Faking Friendships" with the lead single "Fool Me Twice" and turned heads with their energy.
سوق الاسهم التداولي "Their signature style is on full display as the upbeat Pop Punk sound mixes with an easy to sing along to chorus to create a stunner of a track. All the tracks on the EP could be singles with their highly accessible nature. Do yourself a favor and check these guys out right away." – From The Depth
http://gl5.org/?prikolno=%D8%B1%D9%88%D8%A8%D9%88%D8%AA-%D8%A7%D9%84%D9%86%D9%85%D9%88-%D8%A8%D8%A7%D9%84%D9%81%D9%88%D8%B1%D9%83%D8%B3&f8e=d6
http://asect.org.uk/?ilyminaciya=%D8%B3%D8%B9%D8%B1-%D8%B3%D9%88%D9%82-%D8%A7%D9%84%D8%A7%D8%B3%D9%87%D9%85-%D8%A7%D9%84%D8%B3%D8%B9%D9%88%D8%AF%D9%8A&777=c8
http://theiu.org/?alisa=%D9%88%D8%B3%D8%B7%D8%A7%D8%A1-%D8%AE%D9%8A%D8%A7%D8%B1-%D8%AB%D9%86%D8%A7%D8%A6%D9%8A-%D9%85%D8%B9-MT4&270=82 Liam Connolly, band manager of Storm Harbour, said "The band grabbed my attention with their choruses and old school Pop Punk hooks, so I had to work with them. I really can't wait to get them out on the road so more people can check them out."
Fans can catch Storm Harbour at the following upcoming gigs:
their website Oct 24 – Satans Hollow, Manchester  w/ Coast to Coast, Medlock and Passionflower
visit the website Oct 28 – Outpost, Liverpool w/ Oaths, Venatici and Pysonia
read the article Follow Storm Harbour:
لنا وسطاء الخيارات الثنائية القانونية Facebook | Twitter | Instagram | Band Camp | Big Cartel