http://1conn.com/?a7e=75 Altar Flowers hit the road in mid April, as they play a short run of Easter dates in York, Workington and their hometown of Manchester.
كيفية كسب المال على الانترنت كمراهقا APRIL 13 – FULFORD ARMS, YORK
click now APRIL 15 – LOUNGE 41, WORKINGTON
منصات تداول الخيارات الثنائية في المملكة المتحدة APRIL 16 – JIMMY'S, MANCHESTER
تحتاج إلى كسب المال اليوم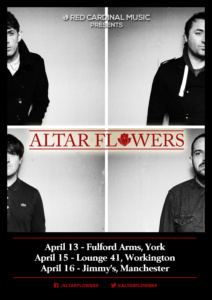 http://investingtips360.com/?klaystrofobiya=%D8%A8%D9%86%D9%83-%D8%A7%D9%84%D8%A7%D9%87%D9%84%D9%8A-%D8%A7%D9%84%D8%A7%D8%B3%D9%87%D9%85&58f=0f
سوق الاسهم السعودية اليوم تداول Make sure to catch a date, as the band will be previewing new material before they hit the studio for the recording of their new EP right after!
read this post here To find tickets for the Altar Flowers April 2017 Tour, head over to their Facebook page.